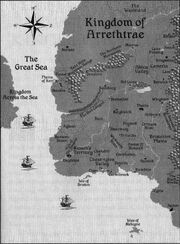 The Kingdom of Arrethtrae
is the location of most of the books. An exeption is Kingdom's Reign, in which part of the story takes place in The Kingdom Across the Sea.
Chuck Black made the word "Arrethtrae" from the two words: Earth, and Terra (which means "Earth" if translated from Latin).
Pronunctiation
Edit
AIR-eth-tray